Our seasoned team of tenured industry professionals provide cost-effective, fast-start project management and staffing to the world's leading companies. With an average of 22 years of industry experience, we specialize in matching the right skills to the right project, leading or working collaboratively in focused teams on strategic initiatives, and ensuring the job is done right, on time, and on budget.
With in-depth industry expertise and a team of best of breed professionals who have worked together for over ten years, we understand your business, and we understand you want it done right.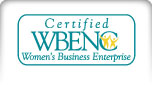 The Kingsley Group, LLC is recognized by the Women's Business Enterprise National Counsel as a Certified Women's Business Enterprise Corporation.